Jun P. Espina&nbsp&nbsp&nbsp&nbsp&nbsp&nbsp&nbsp&nbsp&nbsp3 min read
Updated on June 10th, 2021
---
This book, "Overcoming Adversities by the Power of God: An Exposition on the Triumphant Existence of the Godly People as Outlined in the Holy Scriptures" marks the possibilities of the victory of Jesus People in the ebb and flow of life. From the world's view, this thesis is false because the top in the list of people who get persecution or death are always Christians. In the U.S., for example, the believers of Jesus are viewed as bigots, having a mental disorder, and intolerant. The problem is that most of those attacking Christianity are themselves, bigots, having a mental disorder, and intolerant. There is so much hypocrisy in society but born-again Christianity is simply based on the truth, who is Christ. The Bible said the unbelievers cannot understand the things of God. Wrote the apostle Paul,
But, as it is written, "What no eye has seen, nor ear heard, nor the heart of man imagined, what God has prepared for those who love him." (1 Cor. 2:9, ESV)
The unbelievers are living just outside of God's home. They are unresponsive to scriptural truth. So God gave them over to a depraved mind. "Therefore God gave them over in the lusts of their hearts to impurity, so that their bodies would be dishonored among them." (Rom. 1:24) Those rejecting Christ are skeptical that we can overcome adversities by the power of God. But we can! The surest argument that we can win over life's trials is Christ's promise that "because I live, you will live also." (John 14:19) He said it after His resurrection. His point is that He will resurrect our dead bodies as with His own resurrection. "Because I resurrected, you will also be resurrected because you followed Me." If your problem today is greater that your coming resurrection from the dead through Christ's power, then, I think, it is so because you are not a Christian. You don't have hope of eternal life. Your greatest problem is your coming death and you don't have assurance of heaven and salvation from God's wrath because of sin.
This book, Overcoming Adversities, is good reading for all of us, believers and unbelievers alike. It consists of tried teachings I, the author, experienced as a believer since 1984. One central message in this book is the exhortation on how to live cheerfully in the name of Christ amid our trials and sufferings. In 1 Thessalonians 5:16-17, the apostle Paul said: "Rejoice always, pray without ceasing, give thanks in all circumstances; for this is the will of God in Christ Jesus for you." Rejoice even in the hour of pain; rejoice even if the hand of death is already knocking at your door, BECAUSE YOU WILL BE WITH CHRIST FOREVER–and it is not a problem at all.
Read also: OVERCOMING ADVERSITIES BY FAITH IN CHRIST.
We Overcome Adversities. We Have Jesus by Our Side
Chapter three of this book underscores the truth that "God Provides Strength" to us Christians. I want to share this quote:
"Nearly 800,000 people die by suicide in the world each year, which is roughly one death every 40 seconds. Suicide is the 2nd leading cause of death in the world for those aged 15-24 years." It is how confused people have become while wandering into the lost path of humanity. One suicide death every 40 seconds! Yes, we cannot defeat the trials of life because we are separated from our Maker who is the Source of our strength.1
It is the point of our confidence. We have Jesus by our side come hell or high water. And it is the message we need—it is the substance of the book, "Overcoming Adversities by the Power of God"!
The materials put together in this paper came from the Scriptures. The Bible will help us confirm what this book teaches. Faith, prayer, persistence, a relationship with Christ—all these topics are discussed in this work. "This material," states the book's introduction, "is an 'exposition on the triumphant existence of the godly people as outlined in the Holy Scriptures.' We need to know how to overcome our adversities by the power of God. Life is short, but we can prolong it spiritually by a victorious sojourn."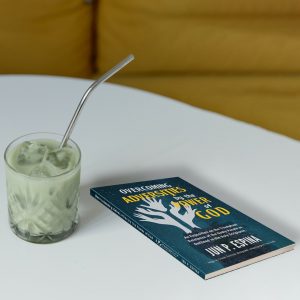 "This book covers the author's three-decade experience of facing life's trials by the power of the God of the Scriptures through faith in Christ. 'Overcoming Adversities by the Power of God' is a volume comprising real-life stories and Bible illustrations of victories amidst the storms of the mortal being. 'From each chapter . . . we tried to convey the Bible teaching on Christian victory over life's adversities. Overall, I crocheted man's willingness to believe and God's love, grace, and mercy in my exhortations. I could not write about Christ's suffering the agony of His cross, for example, without mentioning His triumphant resurrection. It is suffocating, just like painting a thick and dangerous forest without a little path of exit. I tried to supply every affliction I touched with the lines of victory.'"2
Amazon KDP Link

---
1
Jun P. Espina, Overcoming Adversities by the Power of God: An Exposition on the Triumphant Existence of the Godly People as Outlined in the Holy Scriptures (Happyprime Corporation, Philippines, 2021), p 34.
2
Ibid. (pp viii-ix.)