Jun P. Espina&nbsp&nbsp&nbsp&nbsp&nbsp&nbsp&nbsp&nbsp&nbsp6 min read
Updated on March 24th, 2021
---
About ByThisVerse Website & the Christian Message
ByThisVerse (http://bythisverse.com) is a site owned and managed by the writer. On its home page, we wrote about our passionate interest in the Christian message that is related to Jesus Christ obviously and the many truths that He taught and handed down to us through the Lord's Church and the pages of the Holy Scriptures. On this leaf, we want to highlight the core principles behind the birth of this site.
Joy in Accepting Life's Realities
Wrote the apostle Paul: "For we can do nothing against the truth, but only for the truth." (2 Cor. 13:8) One great truth is our incompatibility with God. While He is holy, we are sinners and wicked in our hearts. We used to pray to Him through the grasp of our instincts as the image of God. But we don't love and trust Him. Who said we are strangers to our Creator? Yes, the Holy Bible. This is the reality we need to accept if we want God's friendship and salvation. This is ByThisVerse's message; it is the message of the Scriptures! We must accept life's truths before we can trust God's offers and benefits. The revelation of Christ about the Samaritan woman's five husbands is one example. The woman at first shared to Christ her we-worship-in-this-mountain theology. She had her own faith system like all of us. But the sin of having five husbands convicted and melted her heart. She accepted the actuality of her sins and received forgiveness after trusting Jesus as the Messiah. (See: John 4:15-26)
There is joy in accepting life's realities as taught in the Holy Scriptures. The truth about sin and death is just like the fact of the color white or black. It is impossible to deny the presence of sin in our souls or the certitude that we are now in the queue waiting for our turn to die. After instructing the Christians to "Rejoice in the Lord always," (Phil. 4:4) Paul wrote:
Finally, brethren, whatever is true, whatever is honorable, whatever is right, whatever is pure, whatever is lovely, whatever is of good repute, if there is any excellence and if anything worthy of praise, dwell on these things. The things you have learned and received and heard and seen in me, practice these things, and the God of peace will be with you." (Phil. 4:8-9)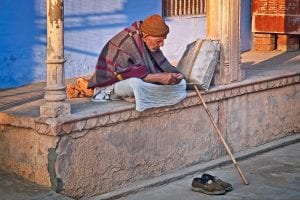 Yes, "whatever is true. . .dwell on these things." Accept life's realities. We are sinners and alienated from God. "But your iniquities," wrote the prophet Isaiah, "have made a separation between you and your God, And your sins have hidden His face from you so that He does not hear." (Is. 59:2) Now Christ condescended as God Incarnate to save and reconcile us to our Creator. And this is the other matter we should accept since Jesus resurrected from the dead—He is the truth. What is this matter? Our Lord came to offer His precious blood on the cross to save us from the guilt and penalty of sin—which is the eternal judgment in hell! Look, how Paul penned it in just three verses: "But God demonstrates His own love toward us, in that while we were yet sinners, Christ died for us. Much more then, having now been justified by His blood, we shall be saved from the wrath of God through Him. For if while we were enemies we were reconciled to God through the death of His Son, much more, having been reconciled, we shall be saved by His life. And not only this, but we also exult in God through our Lord Jesus Christ, through whom we have now received the reconciliation." (Rom. 5:8-11)
Jesus Christ is our Reconciler to the Father, our Redeemer, and Savior. He is our Message; our next life depends on Him. When my family relies on my job for their food and shelter, for example, my daily topic with them would be about that career. We don't stop to share with others what fills our hearts. ByThisVerse exists to share the love and message of Christ. Paul said, "we also believe, therefore we also speak." (2 Cor. 4:13b) What is this love of Jesus? It is one scriptural truth, for He died as a sacrifice for our sins, according to the witness of the Scriptures. The shedding of His own blood at Calvary provides our eternal forgiveness through faith in His finished work on the cross. "In Him," taught Paul, "we have redemption through His blood, the forgiveness of our trespasses, according to the riches of His grace." (Eph. 1:7) This site carries topics related to our salvation from God's wrath through faith in Christ's atoning blood. He commanded us to preach the Gospel; ByThisVerse.Com is here to do it!
Accept Life's Facts
If someone tells you about who you are from your negative side, your immediate defense mechanism would be to bubble over your most positive traits. After a corruption charge, for example, a politician would show off his projects such as bridges and school buildings. He tends is to create a facade of self-righteousness instead of accepting the existence of his imperfections and propensity for what is sin and immoral. Wrote Philip K. Dick that "Reality is that which, when you stop believing in it, doesn't go away." There's joy in accepting life's facts instead of denying or philosophizing them.
We desire to live forever. Our conscience tells us to hire the instinct of survival in an emergency. Before the Fall of Adam, death did not exist. Hence, our sense of immortality is wired into our system like a built-in mechanism that produces the desire for eternal existence. Eternal life matters because our inner man pumps consciousness for it. Then Christ came and promised to give us eternal life if we trust in Him as God the Son. It is the one truth we need to accept to live forever in heaven through Jesus, our Lord. (See: John 3:16)
The Hopeless Guy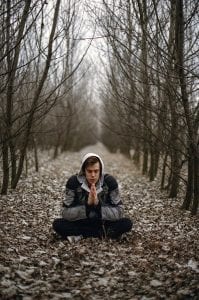 The hopeless guy is like a man in a dark cave with neither a lighter, a torch nor a way of escape. He is desperate and conscious of dying in his ordeal. We are that hopeless guy in the spiritual realm. When a terminal ailment comes, we don't expect God's invention whom we don't worship. The born-again Christian is just different since he has the hope and light of Christ. His options when at the end of his rope are two-fold. One is to accept the death that is filled with the hope of eternal life; and the second, is Christ's intervention according to His will.
As a Christian, I believe Christ is always near me to help me at any time. After our morning prayer, I drove my wife to the drug store to buy a much-needed medical prescription. But the pharmacist refused to sell the drug to her and said that it would cause overdosage already. Confused, my wife argued her doctor required it. A few seconds later, her doctor entered the drugstore and enabled her to purchase and take home the pill. God does things in some mysterious ways.
A reflection of life from a verse of Scriptures casts a different paradigm from the hopeless guy. One may see God in the storm by this verse:
"Consider it all joy, my brethren, when you encounter various trials." (James 1:2)
Rejoice Always
"For to me, to live is Christ and to die is gain." (Phil. 1:21) "Rejoice always, pray without ceasing, give thanks in all circumstances." (1 Thess. 5:16-18)
The Christian Theme of the ByThisVerse Website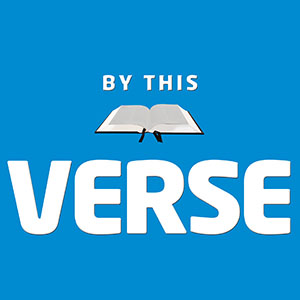 Bythisverse.com was conceptualized to contain Christian and Bible-based articles. Christian writers have always tried to publicize the Christian message through the Internet. It is as normal as the Buddhists or Muslims doing the same thing. I believe, therefore I speak—about the Christian message. (cf. 2 Cor. 4:13) It is the theme of By This Verse.
About What is Right
The Internet is like a football field for God and the devil. In the side of God, it is about what is right. For example, it is wrong to kill yourself. It is the message of God. But the devil has another point. It is your right, he said. The various teachings on what is right or moral or fair are submerging cyberspace. But only the Holy Bible can stand tall against all Satanic deceptions. The Scriptures' moral standards came from God, and the LGBT or some other deviants can never compete or change that.
The Proper Attitude Towards the Christian Message?
I had a relative who jeered at my Christian message since he wanted me to embrace his culture first before he would listen to me. He seemed to require me to approve his worldly principles before my Good News would make sense to him. That was his insistence; his cultural noise which prevented him from becoming a born-again Christian. After almost 20 years, we met again in an unpleasant place—in the hospital. After exchanging hellos, he disappeared. Three months after, I heard he died of cancer. Why is the Christian message so unacceptable by most people? They covered their ears with different noises (cultural, religious, academic, etc.) just they could not come close to Jesus. No one gets saved without responding positively to Christ's invitation to come to Him.