By Jun P. Espina | Last updated on February 18th, 2020 at 12:00 pm
I believe that Faith Promise giving, as commonly preached in Christian churches in January of each year, is creating a sense of guilt in many believers. Imagine the silent pressure to sign up a Faith Promise Card (FPC) that you will give weekly a certain amount to the church throughout the year for mission work apart from your weekly offerings. That's equivalent to making a pledge or vow to God; a matter sacred to the Lord. In Deuteronomy 23:21-23 (NASB), it is written:
"When you make a vow to the Lord your God, you shall not delay to pay it, for it would be sin in you, and the Lord your God will surely require it of you. However, if you refrain from vowing, it would not be sin in you. You shall be careful to perform what goes out from your lips, just as you have voluntarily vowed to the Lord your God, what you have promised."
The above verse tells us that it is SIN if your Faith Promise Giving will not be exactly done as promised throughout the year. So, before submitting your FP Card to the church secretary, be very sure first that you can make it. But is FAITH PROMISE GIVING biblical? Do we need to feel guilty because we don't support this method of fundraising in the church? Let's try to check.
What is the Difference Between Faith Promise and Tithes and Offerings?
Firstly, the New Testament does not teach about tithing, but rather about cheerful and as-you-prosper giving.
1. As-you-prosper Giving

"Now concerning the collection for the saints, as I have given order to the churches of Galatia, even so do ye. Upon the first day of the week let every one of you lay by him in store, as God hath prospered him, that there be no gatherings when I come." (1 Cor. 16:1-2)

2. Cheerful Giving

"But this I say, He which soweth sparingly shall reap also sparingly; and he which soweth bountifully shall reap also bountifully. Every man according as he purposeth in his heart, so let him give; not grudgingly, or of necessity: for God loveth a cheerful giver." (2 Cor. 9:6-7).

3. Tithe as Basis

Personally, I'd like to think about tithe (or 10 percent) as a sound basis as to how much amount shall one return to the Lord out of one's income. For giving to the Lord's work is a proof of love and veneration for our God. Says Proverbs 3:9-10: "Honor the Lord from your wealth And from the first of all your produce; So your barns will be filled with plenty." I am always a believer in giving out a large sum of money, if one has, to the Lord's work–even more than ten percent of the income, provided one trusts where will the money go. Of course, before giving away money to the church, one needs to understand first the purpose and security of the offering. Even the apostle Paul himself made it sure that church collection was well managed and wouldn't go to the wrong hands: "taking precaution so that no one will discredit us in our administration of this generous gift." (2Corinthians 8:20)

4. No More Tithe

But strict and legal tithing per se belongs to the Old Testament no matter how much verse-twisting one will do about it.

5. Love or Cheerful Giving

The New Testament teaches about love or cheerful giving (not grudgingly!), thereby making Faith Promise giving a vow or pledge.
Is Faith Promise Giving Biblical?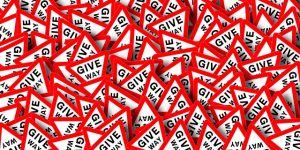 Since it does not fall into traditional church giving category, then it is a vow. If so, a vow to God should be made individually, without the need of signing a Faith Promise Card! As it is, Faith Promise Giving, as preached in 99% of churches is not biblical. I say this again: faith promise is a vow, a pressure-filled commitment (as evidenced by the signing of a Faith Promise Card!) to give to the church an exact amount weekly throughout the year. God said that giving should be cheerfully made as one prospers. Thus, Faith Promise Giving shouldn't be allowed to create a sense of guilt in our hearts, since it is not found in God's Holy Word.
History of Faith Promise Giving
Wrote Steve Van Nathan:1
"Faith Promise was a fund raising invention of Oswald J. Smith in Toronto long ago. He was a Canadian pastor and evangelist who enthusiastically supported world missions. He pastored congregations in Chicago, Los Angeles and Toronto. He is best known as the founding pastor of The Peoples Church, a large congregation in greater Toronto. His vision there was to raise up a church that would have as its primary core value, the spreading of the news of the gospel around the world. Nothing is wrong with seeking to support missions. I am told he had a huge cash register, and he would have someone ring up the pledges as they came in. His church was exalted for having an enormous missions budget, and this fact was said to justify the Faith Promise giving plan."
God's Word Concerning Unscriptural Teachings in the Church
This is from the lips of Christ Himself  as told in three popular Bible versions (Mark 7:7):
NIV –They worship me in vain; their teachings are but rules taught by men.
NLT –Their worship is a farce, for they teach man-made ideas as commands from God.
KJV –Howbeit in vain do they worship me, teaching for doctrines the commandments of men.
Conclusion
If you believe in Faith Promise, do it, it's okay, for it is sin to believe in something without doing it. Romans 14:23 says: "for whatsoever is not of faith is sin." But if you don't believe it, don't be guilty. For me, I won't sign a Faith Promise Card, but I'll give as I always did, but cheerfully and as I prosper. Well, I had just made a Faith Promise but without CARD and the Sunday-after-Sunday pressure in it.
1. Steve Van Nattan, "Faith Promise Giving," Blessed Quietness Journal, Accessed: January 6, 2013, http://www.blessedquietness.com/journal/housechu/faithpromise.htm.