Jun P. Espina&nbsp&nbsp&nbsp&nbsp&nbsp&nbsp&nbsp&nbsp&nbsp6 min read
Written on June 9, 2021
---
True Christianity is about struggle or warfare "against the world forces of this darkness, against the spiritual forces of wickedness." (Eph. 6:12) This paper, "Overcoming Adversities by the Power of God," deals with trials and sufferings God crushes to preserve the born-again follower of Christ. How to fight demonic forces without understanding the devil's schemes from God's viewpoint? The apostle Paul said we must "extinguish all the flaming arrows of the evil one." (Eph. 6:16) Peter also said: "Your adversary, the devil, prowls around like a roaring lion, seeking someone to devour." (1 Pet. 1:5) It is Christianity 101. It is overcoming adversities by the power of God since the devil seeks to tempt and victimize Christ's people.
The born-again Christian may escape from the snares of a bad woman or the temptation to gain dirty money but he could not manage his unconcealed pride. Satan has always a window of opportunity to oppress the born-again Christian.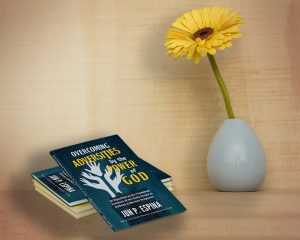 If your Christian life is milk and honey and immune from anguish and a sense of guilt, you are following the wrong Jesus. What you have is prosperity gospel (or similar fake gospel) and all its side effects like positive thinking by using Christ as means to get wealth. Born-again Christianity—from the biblical perspective—is ETERNAL LIFE only Christ can give. The eternal forgiveness we receive from Christ satisfies the whys of our faith. Our Lord may give us riches like what He did to Abraham, or poverty like what Lazarus experienced. Both Lazarus and Abraham trusted God as they faced their respective sufferings and trials. This book, Overcoming Adversities by the Power of God, shows the real believer's victory in life.
Read also: OVERCOMING ADVERSITIES BY THE POWER OF GOD.
My suspicion—if your Christianity is untroubled—is that your faith is marked with unscriptural attributes. In Matthew 5, Christ said, "people will insult and persecute you and say all kinds of evil against you because of Me." (v. 11) Without experiencing persecution, your Christian belief does not give off light to the darkness around you. Your Christian walk is suspect. Your Christian experience lacks authenticity. You are a friend to the world. We saw this class of Christians everywhere. But it is not Bible Christianity.
Christ taught that His followers would be persecuted. He even saw the kind of death Peter will face. From this perspective, Christ encouraged the Christians to press on (despite the trials) by pronouncing a blessing to the persecuted ones because of Him. Note Christ's words in Luke:
Blessed are you when men hate you, and ostracize you, and insult you, and scorn your name as evil, for the sake of the Son of Man. Be glad in that day and leap for joy, for behold, your reward is great in heaven. For in the same way their fathers used to treat the prophets. But woe to you who are rich, for you are receiving your comfort in full. Woe to you who are well-fed now, for you shall be hungry. Woe to you who laugh now, for you shall mourn and weep. Woe to you when all men speak well of you, for their fathers used to treat the false prophets in the same way. (6:22-26)
Overcoming Adversities by Faith
I wrote the following paragraphs found in Chapter 24 of the book, Overcoming Adversities by the Power of God:
"After hearing from the pulpit that I sinned against God (we disobeyed Him by not loving Him with all our heart, soul, strength, and mind (Cf. Luke 10:27)) I invited Christ to live in my heart, fix my life, and save my soul. What happened then after experiencing the second birth—the 'Christ liveth in me' experience? Did I win? Did I become moneyed like magic? My answer is a big NO! Genuine Christianity is not a life of ease. I was diagnosed with heart disease and my wife's entire business was burned to ashes. Where's my feather in the cap, then? Well, later in life God caused us to live in the city, gave us a livelihood, and gave me the spare time to write this book. The point is that my greatest victory is my close relationship with Christ and with my family and the experience of 'rest that is in Christ.' My joy with the Lord is more valuable than anything else. The great J. C. Ryle spoke to my heart when he said: "Ask yourself what is the reason that you are a stranger to the feelings which men and women experienced in the days of the Apostles." My relationship with the Son of God is my grand victory in this life and the observed assurance (Cf. 1 John 5:13) of the salvation of my soul, my most enduring crown in the afterlife. Our goal after all is not riches but peace and happiness with God.
"For the unbelievers, these things are just meaningless. They don't 'know the ropes.' Faith, however, is a force in life that is dominant for good or evil. ISIS or Islamist radicalism is faith-triggered. One's rejection of Christ is also based on faith—faith against all the teachings of the Holy Scriptures. The leader of this religion, Judas, committed suicide and all his followers will one day find themselves in hell—suiciding amidst the tons of opportunity to be saved in the days of cyberspace.
"May I reiterate the gist of this paper: God requires us to believe in Jesus Christ as Savior and Lord if we want to overcome the adversities of life by His intervention! Do you want to be saved from sin, hell, and God's wrath? If so, then believe in the Lord Jesus Christ, man's Savior."1
Faith is our weapon to defeat our trials and tragedies—and to defeat Satan himself. We know they will come but we are prepared when they attack us. The apostle Paul said, "If God is for us, who is against us? The Spirit also helps our weakness . . . [He] intercedes for us with groanings too deep for words . . . because He intercedes for the saints according to the will of God. No temptation has overtaken you but such as is common to man; and God is faithful, who will not allow you to be tempted beyond what you are able, but with the temptation will provide the way of escape also, so that you will be able to endure it." (Rom. 8:31b; 26-27; 1 Cor. 10:13)
As I studied the Word of God, I realized we were commanded by God to always rejoice in our hearts as we pray or face our trials. Whatever situation we have at hand we must be thankful to our Father through Christ Jesus, our Lord. The apostle Paul wrote that we need to "Rejoice in the Lord always; again I will say, rejoice!" (Phil. 4:4) before presenting our requests to God. By being grateful always to our loving Creator, we are guarding our hearts and minds in Christ Jesus." (v. 7) This teaching is reiterated in 1 Thessalonians 5. Paul wrote that we must "Rejoice always; pray without ceasing; in everything give thanks; for this is God's will for you in Christ Jesus." (vv. 16-18) This rejoicing is connected to the command to "pray without ceasing" and in everything give thanks.
James also said: "Consider it all joy, my brethren, when you encounter various trials, knowing that the testing of your faith produces endurance." (1:2) James's rejoicing in trials is linked to making our faith healthy and durable.
What about the apostle Peter? Well, he also said we need to rejoice in our trials because it is equal to sharing Christ's suffering. "If you are reviled for the name of Christ, you are blessed, because the Spirit of glory and of God rests on you." (1 Pet. 4:13-14)
These three N. T. writers preach one thing: Our faith defeats the enemy. John also said the devil cannot touch us. (See 1 John 5:18.)
It is how this book got its core point: We have victory in Jesus!
Even the "Introduction" part of the book depicts a positive and happy attitude whatever is in store for us, Christians:
"A cheerful attitude," states its Introduction, "amidst life's trials is a rooted principle in Scripture. Taught the Apostle Paul: 'Now I rejoice in my sufferings for your sake . . .. For God gave us a spirit not of fear but of power and love and self-control' (Col 1:24; 2 Tim. 1:7). It is difficult to absorb but true: 'I rejoice in my sufferings.' Both the believers and unbelievers of Christ suffer in this life. The difference is that Christ's followers can rejoice in pain and adversity because God gave them a 'spirit not of fear but of power.'
"This material is an "exposition on the triumphant existence of the godly people as outlined in the Holy Scriptures." We need to know how to overcome our adversities by the power of God. Life is short, but we can prolong it spiritually by a victorious sojourn."2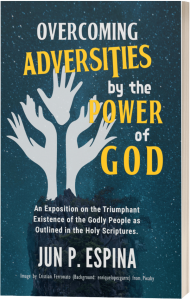 OVERCOMING ADVERSITIES BY THE POWER OF GOD: An Exposition on the Triumphant Existence of the Godly People as Outlined in the Holy Scriptures
Amazon LINK
---
Notes:
1
Jun P. Espina, OVERCOMING ADVERSITIES BY THE POWER OF GOD: An Exposition on the Triumphant Existence of the Godly People as Outlined in the Holy Scriptures (Happyprime Corporation, Philippines, 2021), pp. 259-260.
2
Ibid. (pp. viii-ix)