Jun P. Espina&nbsp&nbsp&nbsp&nbsp&nbsp&nbsp&nbsp&nbsp&nbsp5 min read
Updated on June 27th, 2022
---
Why is Christ lawyering for you as a believer? I always have a corner about rephrasing theological jargon into graspable lingo. We cannot speak Christianese to the unbelievers. In our church today, for example, I heard about Christ as our Advocate or Lawyer to the Father. What is it? Christ is not only our Savior from sin but our Helper or Advocate in this life.
You are like being pulled out from the mire of sin by our Savior, but He did not just stop from there. Because of His eternal love for you, He took care of you and sheltered you every inch from the devil's lies and accusations. Our Christ does not just SAVE but COMFORT us after rescuing us from the slavery of sin. Wrote the apostle Paul:
Christ Jesus is He who died, yes, rather who was raised, who is at the right hand of God, who also INTERCEDES for us. Who will separate us from the love of Christ? Will tribulation, or distress, or persecution, or famine, or nakedness, or peril, or sword?
The Christian teachings are just sweet for the truth-seekers. Christ intercedes for us. He is our Helper, our Mediator, and our Advocate.
Before the first Christian martyr (Stephen) died, he saw "Jesus standing at the right hand of God." (Acts 7:55b) He saw Jesus interceding for him, welcoming him to heaven. Our Lord stood (not sitting on His Throne) as one lawyering. He stood as if saying, "Father, Stephen is stoned because of My Name. But I died for him; forgive him Father from all his sins as he would join us up here in a moment."
The Bible record states, "They went on stoning Stephen as he called on the Lord and said, "Lord Jesus, receive my spirit!" (Acts 7:59)
We Have an Advocate with the Father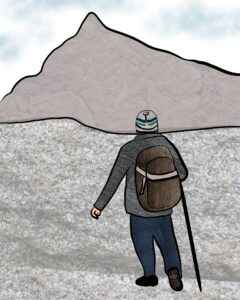 Wrote the apostle John, "And if anyone sins, we have an Advocate with the Father, Jesus Christ the righteous." (1 John 2:1) The word advocate came from the Greek word parakleton, which means adviser, helper, comforter, or counselor.
Jesus also calls the Holy Spirit as the believer's Advocate: "But I tell you the truth, it is to your advantage that I go away; for if I do not go away, the Helper [Advocate] will not come to you; but if I go, I will send Him to you." (John16:7)
The follower of Christ is assured of a divine helping hand in his Christian walk. A Christian who is walking in the darkness like the unbelievers is just a babe in the Lord, but his bad testimony does not stop Christ from attorneying for him with the Father. Wrote John: "My little children, I am writing these things to you so that you may not sin. And if anyone sins, we have an Advocate with the Father, Jesus Christ the righteous." (1 John 2:1)
READ MORE: Spiritual Birth Or Christ's Spirit's Indwelling
Our Advocate, Jesus Christ, Does Not License Us to Pursue a Dark Life
The work of Christ as our Advocate spurs only into the realm of faith. One active church member, for example, speechified his, "The LORD is my shepherd, I shall not want" (Ps. 23:1) before his children at the breakfast table. But he was engaged in the smuggling of imported goods. He pursued an ugly and dark lifestyle while trumpeting his Christianity. Christ is our Helper, but He does not condone our illegal and sinful affairs. The Helping Hand of God is not a license to hunt down what is immoral, criminal, and evil.
"[B]ut He disciplines us for our good, so that we may share His holiness." (Heb. 12:10b)
When is the Time Christ is Not Your Advocate?
If you don't have answered prayer since your water baptism, it can be a serious spiritual cancer. You have told already your family and friends that you are a born-again Christian. But Christ cannot be your Advocate. You don't have a connection with Him. Christ in "none of your business," so to speak. You are a fake Christian—an unbeliever who loves to say, "Amen," during a church service. Repent and receive the Lord Jesus Christ in your heart as your Lord and Savior, according to the Word of God. Jesus is the believer's Advocate or Counselor, but God cannot walk with a so-called believer who keeps Judas' heart of unbelief.
"He who believes in the Son has eternal life; but he who does not obey the Son will not see life, but the wrath of God abides on him. He who believes in Him is not judged; he who does not believe has been judged already, because he has not believed in the name of the only begotten Son of God.(John 3:36; 18)
The apostle Paul said that Israel "were broken off for their unbelief." Christ did not become their Advocate after crucifying Him. Then he added: "Therefore, be sure that it is those who are of faith who are sons of Abraham." (Rom. 11:20; Gal. 3:7) Faith in Christ is the plaster of Paris to spark the biblical promise of a divine helping hand. "If you abide in Me," said our Lord, "and My words abide in you, ask whatever you wish, and it will be done for you." (John 15:7)
When Will Christ Become the Advocate for Israel in the Context of Faith?
In the Gospel story, however, our Lord will remember His chosen people, Israel, and save them, for "He will reign over the house of Jacob forever." (Luke 1:33)
According to Paul, after "the fullness of the Gentiles . . . all Israel will be saved." Christ will become their Advocate before the rise of His kingdom on the earth, where the "house of Jacob" would serve as the nucleus of His earthly government. Said Paul:
For I do not want you, brethren, to be uninformed of this mystery—so that you will not be wise in your own estimation—that a partial hardening has happened to Israel until the fullness of the Gentiles has come in; and
so all Israel will be saved
; just as it is written,
"The Deliverer will come from Zion,
He will remove ungodliness from Jacob."
"This is My covenant with them,
When I take away their sins." (Rom. 11:25-27)
Christ's Helping Hand will Lead the Believer to Walk a Sanctified Life
Positional Sanctification
The apostle Paul said that Christ's born-again followers "are fellow citizens with the saints, and are of God's household." (Eph. 2:18) Christians are saints (holy, set apart) and sanctified in the eyes of God. Paul also said, "[Y]ou are in Christ Jesus, who became to us . . . sanctification." (1 Cor 1:30)
Theologians call this holiness of the believers POSITIONAL SANCTIFICATION. In Christ's priestly prayer, He said, Father, "[s]anctify them in the truth; Your word is truth." (John 17:17)
"[W]e have been sanctified through the offering of the body of Jesus Christ once for all." (Heb. 10:10)
Progressive Sanctification
The other type of sanctification is PROGRESSIVE or EXPERIENTIAL. This is the holiness of the believers discussed in 1 John 2:1: "My little children, I am writing these things to you so that you may not sin. And if anyone sins, we have an Advocate with the Father, Jesus Christ the righteous."
Christ's helping hand will lead the believer to walk a sanctified life.
What about a Christian who is Habitually Sinning?
Of the Psuedo-Christian
A Christian who has two wives is not a Christian. A Christian supporting abortion is not a Christian. This statement can be offensive, but the truth is always offensive. Repent or Christ cannot help you as your Advocate.
John wrote, "If we say that we have fellowship with Him [Christ] and yet walk in the darkness, we lie and do not practice the truth." (1 John 1:6)
Of Sinless Perfection
The mention of "unto a perfect man" in Ephesians 4:13 (the pet Scripture of the Holiness Group) in King James Version is rendered "to a mature man" in NASB. Bible scholars agree that the Greek word teleios is used to mean perfect, complete, full-grown, and mature. The apostle John clarified that if we teach sinless perfection in this life, we are just deceiving ourselves, and "the truth is not in us." (1 John 1:8)
Conclusion
Our spiritual life in Christ undergoes three scenes of salvation, namely, a) salvation from the penalty of sin (justification — Rom. 5:1); salvation from the power of sin (sanctification — 1 Thess. 4:7); and salvation from the presence of sin (glorification — Col. 3:4).
These stages of salvation can only happen to us if we receive Christ as Lord and Savior, according to the Word of God. Jesus is our Savior and Advocate on the condition of genuine faith in Him.