Jun P. Espina&nbsp&nbsp&nbsp&nbsp&nbsp&nbsp&nbsp&nbsp&nbsp1 min read
Updated on February 12th, 2020
---
Persistent Prayer
Being good to people is a form of prayer," believed a friend of mine. His core idea, perhaps, is that doing good is just the aftereffect of being prayerful. Prayer, however, is a one-on-one conference with our Father God. John R. Rice wrote that prayer is about "asking and receiving." Jesus Christ even added one element in biblical praying, and it is the attitude of seeking God's face in the course of asking from Him. In sum, the Father teaches us an annoyingly persistent prayer that could only come from a real believer of Christ as the only Way to Father God.
Observe Christ's teaching:
"Ask, and it will be given to you; seek, and you will find; knock, and it will be opened to you." (Matt. 7:7)
Persistent Prayer: What is It?
Secret Prayer Really Works
I wrote somewhere in ByThisVerse.Com a topic on secret prayer, that was clearly anchored on the concept of a Father-and-child conference with God. The following is one concept that is also consistent with our theme of the agonizingly persistent prayer as required by Christ for His real followers to do:
"Here is Christ's teaching concerning secret prayer and devotion: 'But you, when you pray, go into your room, and when you have shut your door, pray to your Father who is in secret, and your Father who sees in secret will repay you.' This scripture tells us that we should spend time with God alone in prayer. Secret devotion is a one-on-one and a closed door conference, so to speak, with Father God. The heart is the proper venue for this meeting, for God sees the man through his heart."
Persistent Prayer: Who Can Do It?
David's prayer to God for the recovery of his sick son with Bathsheba is one biblical example of a persistent prayer. The Bible stated that the child "was very sick. David therefore inquired of God for the child; and David fasted and went and lay all night on the ground. The elders of his household stood beside him in order to raise him up from the ground, but he was unwilling and would not eat food with them." (2 Sam. 12:1b-17) Only the real believers can do such agonizingly persistent prayer!
Christ's Parable of the Need for a Persistent Prayer
"Now He [Christ] was telling them a parable," wrote Luke, "to show that at all times they ought to pray and not to lose heart, saying, 'In a certain city there was a judge who did not fear God and did not respect man. There was a widow in that city, and she kept coming to him, saying, "Give me legal protection from my opponent." For a while he was unwilling; but afterward he said to himself, "Even though I do not fear God nor respect man, yet because this widow bothers me, I will give her legal protection, otherwise by continually coming she will wear me out."' And the Lord said, 'Hear what the unrighteous judge said; now, will not God bring about justice for His elect who cry to Him day and night, and will He delay long over them? I tell you that He will bring about justice for them quickly. However, when the Son of Man comes, will He find faith on the earth?'" (Luke 18:1-8)

Such phrases as "pray and not to lose heart," "who cry to Him day and night," "will He find faith on the earth" prove our theme that only real believers can do an restlessly persistent prayer to God.
A Hymn Concerning Persistent Prayer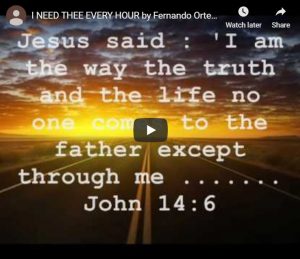 One timeless hymn (written by Annie S. Hawks, 1835-1918, and music by Robert Lowry, 1826-1899) is titled "I Need Thee Every Hour." It is a Christian song that simply depicts the teaching about persistent prayer. "I need thee every hour; Oh, bless me now, my Savior, I come to Thee"— what a resolute prayer! It is how true Christianity works; it is a complete dependence upon God through Christ's Spirit in the soul. Will there be dependence without communication? "Pray without ceasing" or stubborn praying! Observe the following lyrics of the hymn:
I need Thee every hour, most gracious Lord;
No tender voice like Thine can peace afford.
Refrain:
I need Thee, oh, I need Thee;
Every hour I need Thee;
Oh, bless me now, my Savior,
I come to Thee.
I need Thee every hour, stay Thou nearby;
Temptations lose their pow'r when Thou art nigh.
I need Thee every hour, in joy or pain;
Come quickly and abide, or life is vain.
I need Thee every hour; teach me Thy will;
And Thy rich promises in me fulfill.
I need Thee every hour, most Holy One;
Oh, make me Thine indeed, Thou blessed Son.